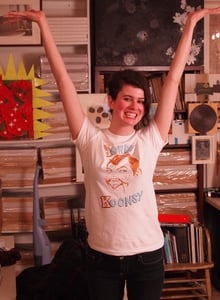 $

20.00
A Brooklyn Rail Exclusive Edition
Designed by William Powhida
To order by mail send a check ($20 + $5 s&h) to:
The Brooklyn Rail
99 Commercial Street, #32
Brooklyn, NY 11222
Sizes run true. Our model is wearing a Women's Small.
Men's Large sizes are SOLD OUT.
Women's Small and Medium sizes are in extremely short supply! Order now before they sell out!
Check payable to Brooklyn Rail